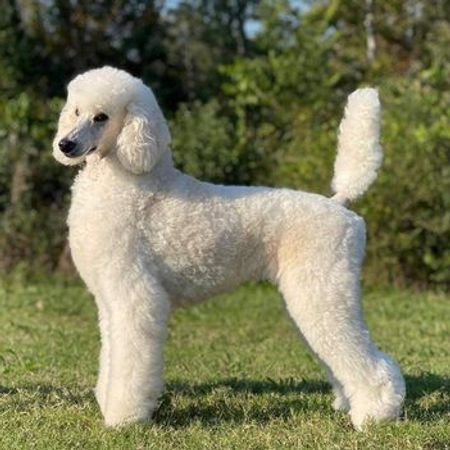 KSP Champagne On Ice
Group Winning
Harper is 33lbs and 22" tall and is a beautiful cream girl. She has a beautiful showline pedigree full of AKC Champions. She has beautiful breed type and a lovely head piece. She has correct almond-shaped eyes, inky black pigment, and great coat texture. She is a hair growing machine with lovely depth of chest. She moves flawlessly with zero wasted effort, and it's a thing of beauty. 
Harper is a more reserved girl who is a perfect family pet. She loves to hang out around the house and cuddle on the couch. She's fabulous with other dogs, great with kids, and she loves her toys! She is a medium drive girl that loves to play chase and has a great sense of humor!

Harper welcomed her first litter in January 2021 with our very own Kovu! She was an absolutely wonderful mother; very attentive, very loving, fair in corrections, loved to play and engage with her puppies, and she bounced right back physically and mentally from motherhood. She will be expecting her next litter in Spring or Fall of 2022. Head over to the Planned Breedings tabs to see more.

Harper was able to attend two shows in 2021, and she is now one comp win away from her UKC CH. We will head back out in 2022!
2019 Show Brags
10/06/2019 Illinois Toy Fox Terrier Association; Best Female, Best of Winners, Best of Breed, Group 1 Show 2 
2021 Show Brags 
10/8/2021 UKC Greater Smoky Mountain Dog Club; Class Win, Best Female, Best of Winners Show 2
12/11/2021 UKC Dodge County Canine Club; Class Win, Best Female Show 1
12/11/2021 UKC Dodge County Canine Club; Class Win, Best Female Show 2
12/12/2021 UKC Dodge County Canine Club; Class Win, Reserve Female Show 1
12/12/2021 UKC Dodge County Canine Club; Class Win, Reserve Female Show 2