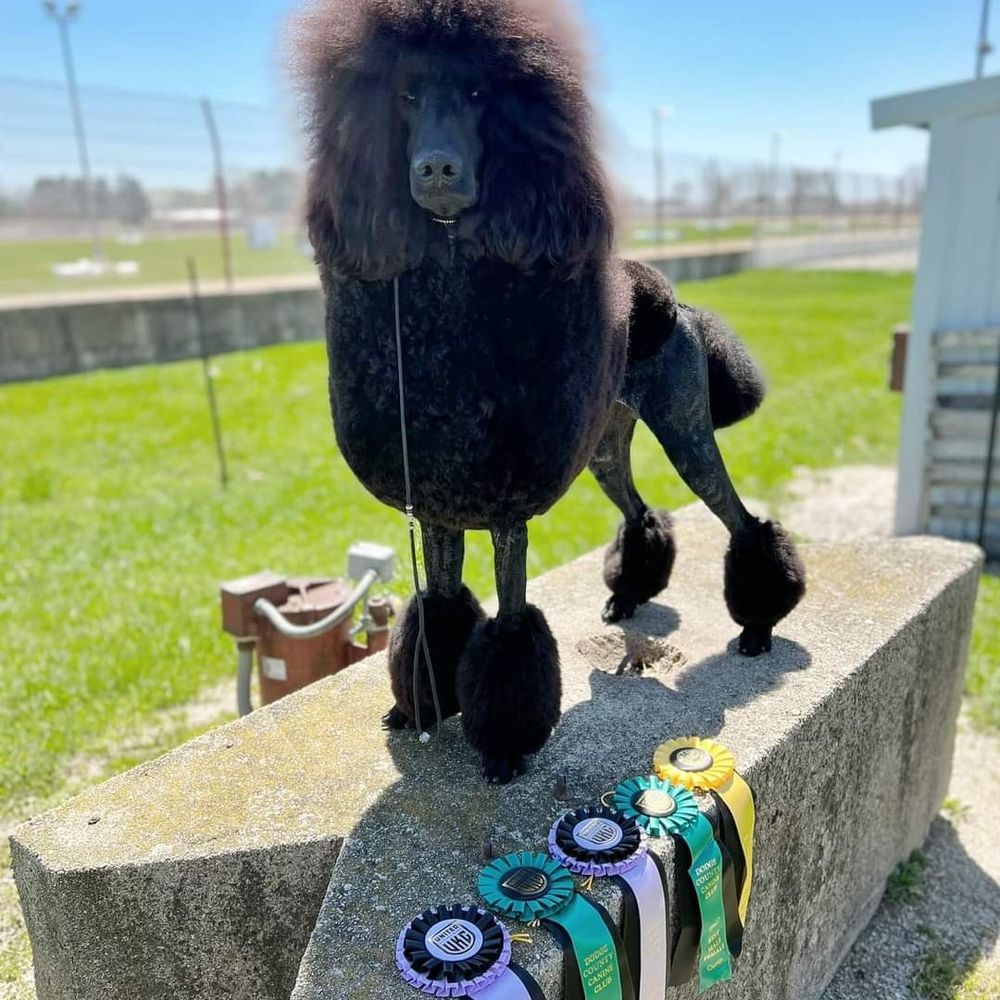 Alue's When Luck Comes
co-owned with Lenny
Santiago was Timon, black collar boy in our Kovu x Harper litter. He is co-owned with Lenny and resides in Wisconsin. He will be shown UKC and may play around in the AKC rings as well, so keep an eye out for him in both venues! 
Santiago is a little lover boy who loves to cuddle with his people and wrestle with every dog he meets! He's a fabulous little sidekick who can roll with the punches with a wagging tail.
He is a lovely refined boy with moderate, balanced angulation. He takes after his mother a lot with lighter bone, light movement, and a lovely headpiece with beautiful chiseling and lovely dark pigment. We expect big things out of this boy and can't wait to see what the future holds! 
Santiago's Pedigree
Santiago's Betterbred
Santiago's OFA - he currently does not have any testing done
Santiago is clear by parentage of all genetic diseases including day blindness, but will be tested for PRA RCD4 as Harper is a carrier
07/24/21 AKC Marshfield Show: 1st in 6-9 Month Puppy Class, Reserve Winners Dog

07/25/21 AKC Marshfield Show: 1st in 6-9 Month Puppy Class, Reserve Winners Dog
Lenny and Santiago attended their first AKC big kid shows the day Iago turned 6 months old!! Lenny sent me some videos and Santiago was just having the time of his life playing show dog, and we love a happy puppy. His first experience in the ring was fabulous and while he didn't pull off any big wins, he pranced and bucked around the ring with a happy face and a wagging tail and that's all we can ask for out of our puppies. I am so proud of this owner handler team and cannot wait to see what's in store for them.
08/21/21 UKC Dodge County Canine Club: Best Male, Best of Breed, Show 1

08/21/21 UKC Dodge County Canine Club: Best Male, Best of Breed, Show 2

11/20/21 AKC Wisconsin Kennel Club: 1st in 9-12 Month Puppy Class
2022 Show Brags
5/7/2022 UKC Dodge County Canine Club; 1st Place Class Win, Best Male, Best of Breed, Group 4 , Show 1

5/7/2022 UKC Dodge County Canine Club; 1st Place Class Win, Best Male, Best of Breed, Show 2