Puppy Rearing Techniques and Philosophies
We follow Avidog's puppy rearing program while raising our pups. While we have moved away from Puppy Culture as a puppy raising system, we still highly recommend their showing series for anyone interested in showing their Alue Poodle, whether just for fun or for keeps!
Puppy Culture : We are huge fans of their show set "Stack and Deliver" for training show puppies!! I also recommend the book "When Pigs Fly" for help training stubborn dogs. 
Avidog is like an online college for breeders and all dog owners. It's an amazing resource for everyone involved in a dogs life. We love that we can purchase courses that we are interested in like Avidog puppy evaluation test, stud dog course, and more along with AtoZ. We also love all the information on prenatal care! When your new puppy comes home they will also have a copy of Avidog's puppy exercise guideline. Avidog also has tons of courses for puppy owners, like teaching your puppy to swim to making your car rides go as smoothly and more. Because of the science behind what Avidog offers breeders, I feel it truly gives our puppies an edge above the rest.
For Early Neurological Stimulation (ENS), we also follow The Rule of Sevens. The rule of sevens is a basic outline of things puppies should experience by seven weeks. However, at Alue our puppies will not be going home until 10 weeks of age, so while our puppies will be exposed to things outlined in the rule of sevens, our puppies will experience these things an extra few weeks! When you take the time to expose puppies to as many things as possible at a young age versus an older dog you have a blank template to work with and grow from. When the puppies are with us, we can help guide our puppies through these experiences and through their fear stages as baby puppies. We also use these experiences to help learn about our puppies' temperament and how they deal with new experiences and challenges, which helps us place them in their best new homes. 
Alue Standard Poodle puppies are only available to pre approved, screen homes. Our puppies are sold on limited AKC registration with a contract all parties sign. No puppies are sold outright, any sold with full rights are only available to approved and trusted breeders on co-ownership contracts.
Alue Standard Poodles will not sell to any doodle mix breeders, merle mix breeders, puppy mills, puppy brokers, pet stores, or any other situation we deem unethical.
For vaccinations, we follow the Avidog method of pulling nomographs on our dams and deciding on our vaccine protocol based on the actual science provided by her immunity levels. That way we aren't overriding momma's immunity by vaccinating too early, nor are we leaving our puppies susceptible to disease by waiting too long for our first vaccinations.
Alue puppies are handled daily, and our puppy family will have access to our cameras so they can check in on the litter whenever they want! This is something we are very excited to offer our families! Our puppies will experience all sorts of new sights, sounds & people. They will also meet all the adult dogs in the house. Depending on weather we have a baby pool for the pups. We have a ball pit, loud bright baby toys for the puppies,  tunnels, baby slides, and an assortment of other fun & engaging things! Our puppies will be introduced to crate training, leash training, and boundary training.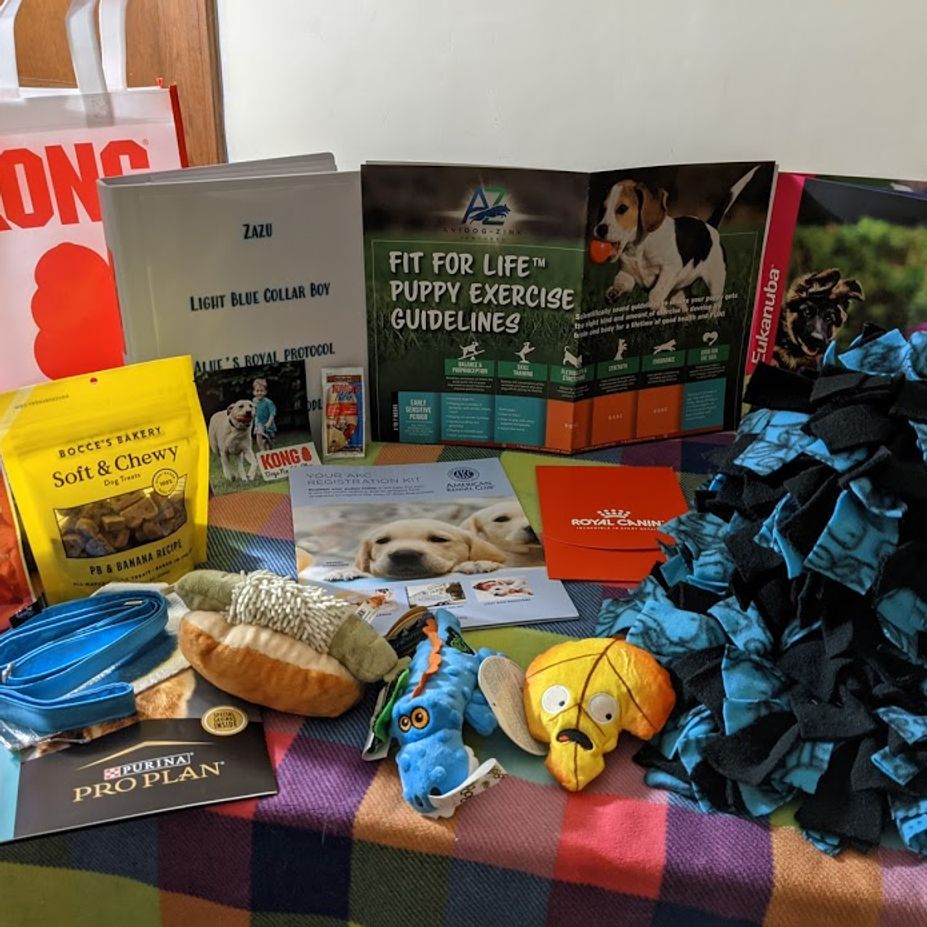 What Your Puppy Comes Home With
We send your Alue puppy home with:
Variety of Brands Puppy Pack Kits
A Week of Food
Personal Customized Gift from K9 Celtic
Customized Snuffle Gifts
Pre Paid limited AKC registration
Pre Paid AKC Reunite Microchip
Treats, Toys, a blanket filled with mom and siblings scent
Contract with 6 year health guarantee that covers hips, elbows, cardiac and thyroid issues
Lifetime Breeder Support
Binder with all Health Testing & Vet Appointment Information
A Closed Facebook Group for Alue Puppy Owners 
Extras That Change with Each Litter!
Shipping Information 
We are located in Louisville, KY; but don't let that hold you back! We have been contacted by people all over the country for a puppy. Whether you want your puppy delivered to you or you want to meet in the middle, we can make it happen!
Prices for ground shipment are subject to change due to gas prices
Trips under 2 hours round trip are of no cost to the puppy family
Trips 3-5 hours are $350+
Trips 6-8 hours are $550+
Trips 9-10 hours are $950+
If ground transportation is not an option, puppy buyers have the option of flying into Louisville International Airport to pick up your puppy to fly as carry on with you home. In some cases I may be able to fly your puppy to your local airport - you will be responsible for the cost of the carrier, the price of the carry on, and the price of the plane ticket along with a $400 fee for my time and expenses. We also offer puppy nanny services!
Cost
Alue Standard Poodles start at $3,000 for limited registration and can go up from there depending on pedigree, emergency costs, and any expenses related to getting the litter on the ground. Breeding rights are only granted to trusted breeders, please do not ask to buy full registration because it will not be granted.
Do you charge more for "rare" colors?
Absolutely not. All of our puppies from our solids to our multis are the same price. We do not charge more for our sables, phantoms, or any other color or pattern. The same amount of time, effort, and love have been invested into each puppy, and coat color does not change that. 
Diet
We are frequently changing food brands as part of our rotational diet; but your puppy will be weaned onto the same food as their dam at an appropriate age.
Vaccinations
We follow a  vaccine protocol that starts with vaccinating per nomograph results and we require our families to follow as best as their area allows them to. We ask our families to follow up with the additional nomograph blood draw and we will pay for the fee to send it in to the lab.  We ask that you discuss any vaccination additions with your vet and us; some areas will need a Lepto vaccine, others may not. So please speak to your vet and see what they suggest you do. We urge you to consider three-year boosters instead of yearly. We also support titer testing if available. 
Returning Alue Puppy Owners
We offer our returning puppy buyers a discount of $300 to show our love and appreciation for those families who decide to return for another family member. If you've accomplished a title in AKC or UKC, we discount your next puppy by $500!