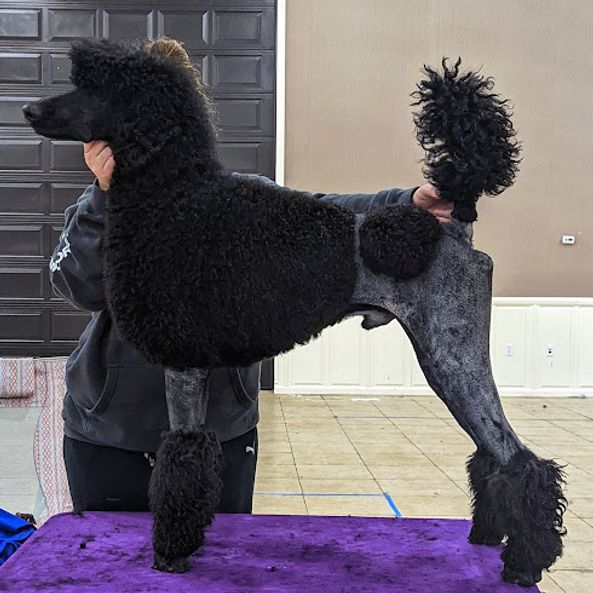 AKC MJR PTD Alue's Midwest Special
Co-Owned with Paige P
Pumbaa was dark blue collar boy out of our Kovu x Harper litter. He has shown AKC and will be shown UKC as well.
He is a bold, outgoing boy who is a total ham! He's a loud mouth clown who loves his people and rolls with the flow. He is very affectionate and loves to be around other dogs.
Pumbaa is a flashy boy with lovely movement and a stunning head piece and an elegantly long neck. He has a very nice rear with a prominent shelf, great tail set, and lovely tight feet. We have high hopes for this boy and I can't wait to see what the future holds for him! 
Pumbaa was surrendered to me by his previous co-owner and needed months of rehabilitation. After spending a few months with Lenny & Santiago, Pumbaa has now found his new home with his new co-owner Paige & Poodle brother Bishop!! Watch for him in performance & conformation in the coming months!
Pumbaa's Pedigree
Pumbaa's Betterbred
Pumbaa's OFA - he currently has no OFA tests
Pumbaa is genetically clear by parentage of all genetic diseases included day blindness. He will be tested for PRA RCD4 as Harper is a carrier. 

 
07/10/2021 AKC Independence Cluster - Beginner Puppy; BOB, Group 1
07/11/2021 AKC Independence Cluster - BPUP; BOB, Group 1
I am so thrilled with how well Pumbaa's AKC debut went!! His first weekend out at his first show ever and he brought home two big wins!! His co-owner said he did really really well and took everything in stride. He was handled by two of his mom's friends and took that in stride as well - and Poodles can be a hard breed to hand off to strangers, especially puppies at their first show. This boy rolled with it and came out to show!! She said he made friends with a Pomeranian puppy and by the second day he really came into himself and showed up to win. 
Pumbaa is entered in a few more AKC shows to start his "big boy" career coming up and I cannot wait to see what's in store for this team! I'm so proud of him and his mom for getting out there and making things happen and cannot thank all of Pumbaa's friends for their help along the way enough! 
08/14/2021 AKC Huntingdon Valley Kennel Club - Best of Breed Puppy, Winners Dog & Best of Opposite Sex
Pumbaa had his first AKC "Big Kid" show at 6.5 months old and he came to WIN!!! He won not only his first points, but he won his FIRST THREE POINT MAJOR!!! To say that I am thrilled and honored is a complete understatement!! I cannot hardly believe our first litter here at Alue has produced an AKC Major Pointed puppy at under 7 months old! Watch this boy as he matures - he's got BIG things coming!!
08/28/2021 AKC Greater Fredericksburg Kennel Club - First Place Class Win, Reserve Winners Dog
08/29/2021 AKC Charlottesville-Ablemarle Kennel Club - First Place Class Win, Reserve Winners Dog
December 2021 Update:
Pumbaa is still residing with Lenny & Santiago and growing more and more confident in himself and the world around him as the days pass! At this time he is still being considered a breeding and show prospect and I will likely begin to search out his home next year.  Lenny sent me an update on him earlier this month and I wanted to share it here.
"He's doing so well, Natural check ins, recall. Literally he's perfect. He runs back to me to bump me and nibble my fingers. He's such a nibbler. He clacks his jaws SO MUCH lmao. Comes up and dances around going clack clack clack and then gently nibbles fingers. Seriously he's perfect. He just ran up to me and tugged on my pant leg w his lil teef. Like "he lo". Also he is SUCH a snoot-poker. Even more than Iago I think. He just runs up and PRODS you in the thighs. He's on a proper meal schedule now too! No more free feeding and he even kennels up by himself to eat, and finishes his meals! I've gone to wetting his kibble too like I do with the others and he eats it all in one sitting." 
I have faith Pumbaa will be much easier to place than I originally had thought. For now we are just working on his confidence in himself, us & the world and growing some hair. We have all the time in the world for showing, but I cannot wait to see him back out there.
~~~~~~~~~~~~~~~~~~~~
March 2022 Update: 
Pumbaa came to stay with me for a week as we prepared to head up to Ohio for the UKC Midwest Classic where we were going to meet his potential new owner!! He was a completely different dog this time around than he was when I first got him back; he has so much more confidence and he is so happy and loving it really just blew my mind!! He loved staying with me and getting to sleep in bed with me and wrestle and play with his brother and mom and dad for the week. It was a complete turn around from the dog he was when he was surrendered back to me. He has a personality of gold and if I could, I would have kept him all to myself; but he deserves a shot at a home that can take him places in performance and show that would be a lot more difficult for me to do. As of March 31, 2022, Pumbaa has a new home!! I cannot wait to see what the future holds for him!